CarterJMRN has been tracking working from home trends among the general public aged 16-69 via our Japan Consumer Sentiment Survey.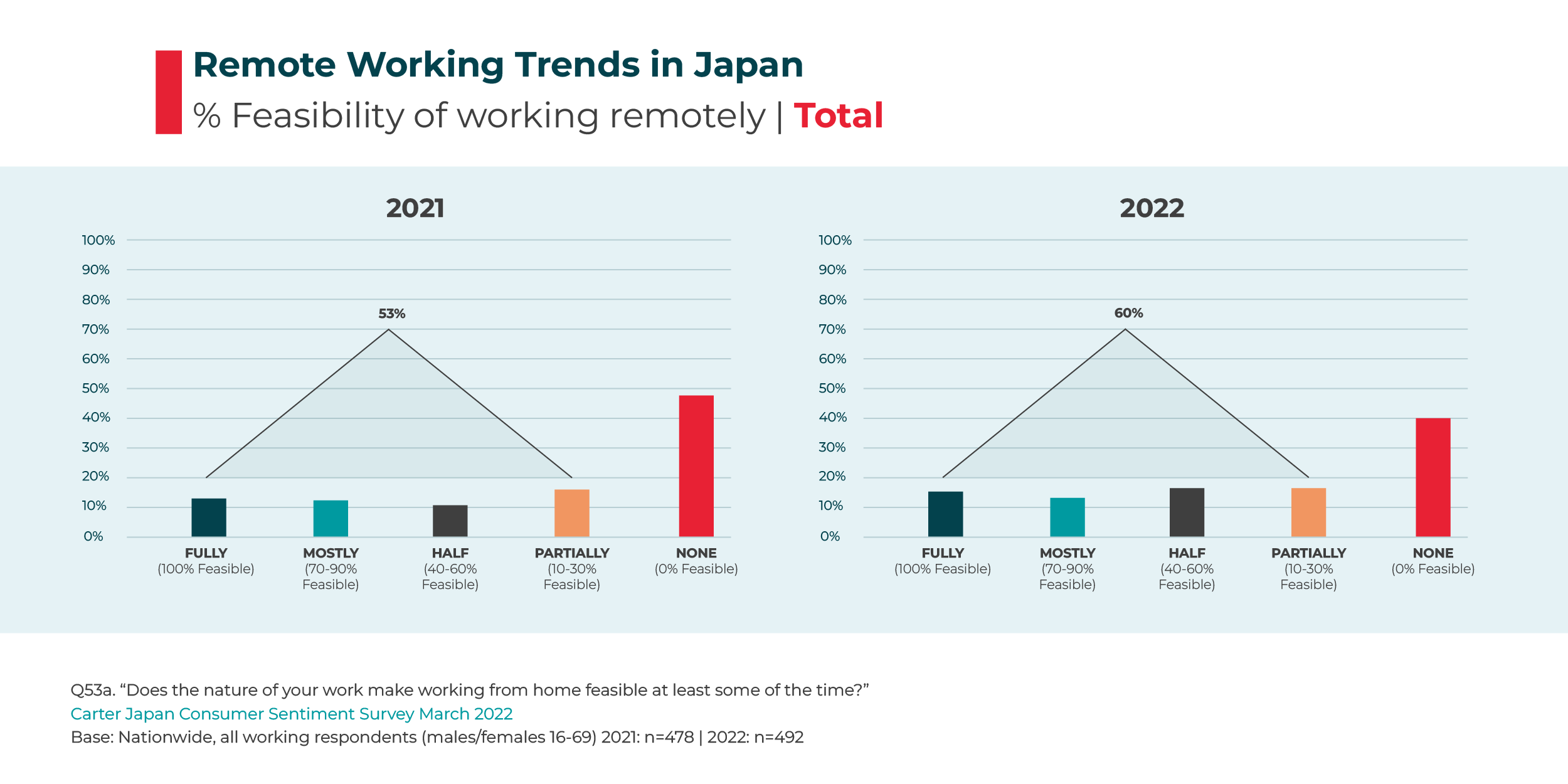 In our latest wave in 2022, we found that working from home was becoming more feasible for the working population in Japan with 60% agreeing it was feasible compared to 53% last year.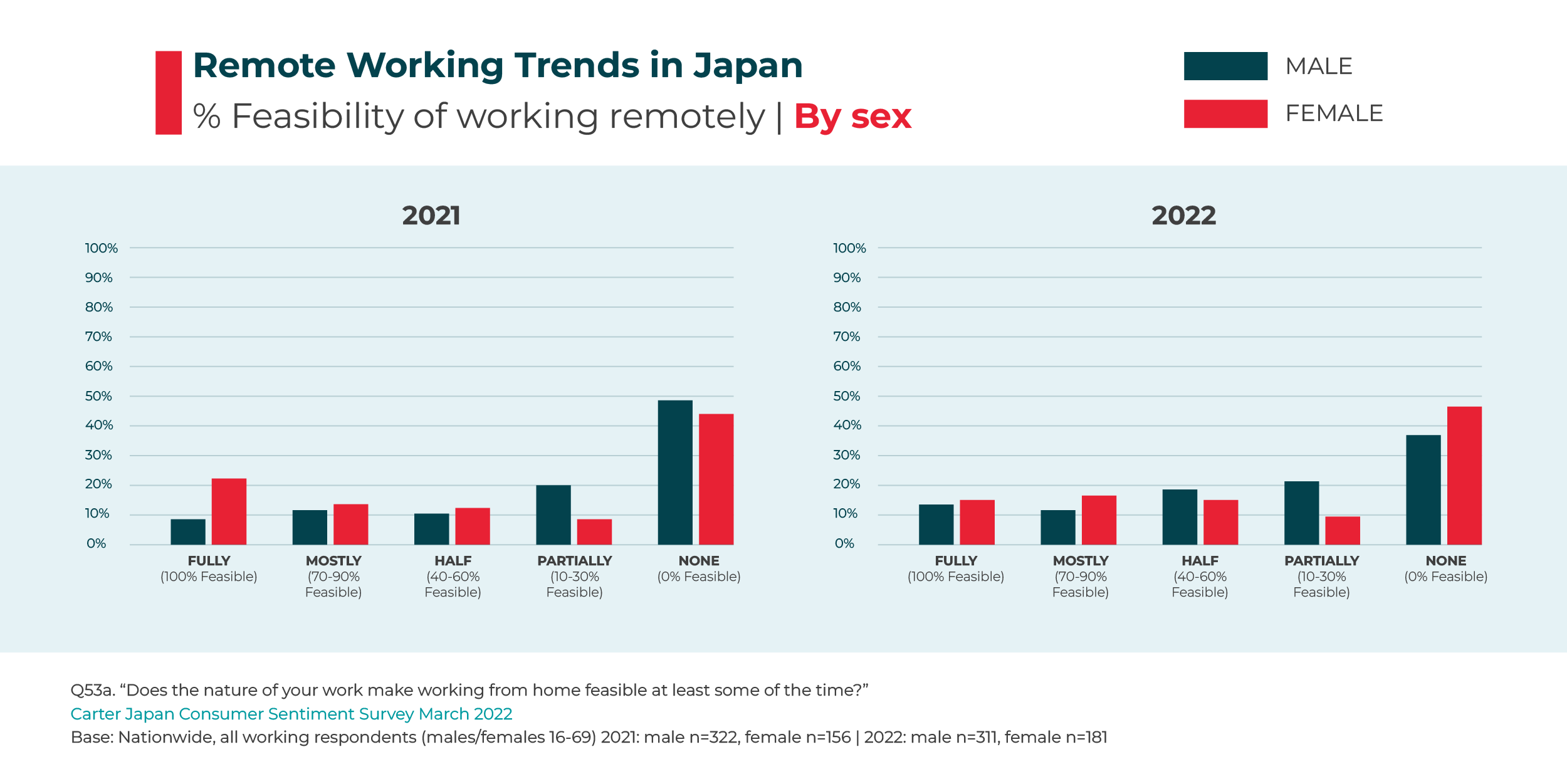 Women are less likely to be able to work from home than men
54% of female workers say it is feasible to work from home at least some of the time. This compares to 63% of male workers.
Male workers appear to enjoy a greater range of options for working from home compared to female workers, who trail in their ability to work at the 'partial' level from home. The lower percentage of partial working from home for women at 9% vs men at 21% possibly reflects the limited options some types of work offer for female workers.
Compared to last year, it is evident that the feasibility of men working from home is increasing (51% in 2021 vs. 63% in 2022) while women's position stagnates (56% in 2021 vs 54% in 2022). This seems to be an effect of the current push in Japan to enable workplace flexibility, with the beneficiaries seeming to be skewed male.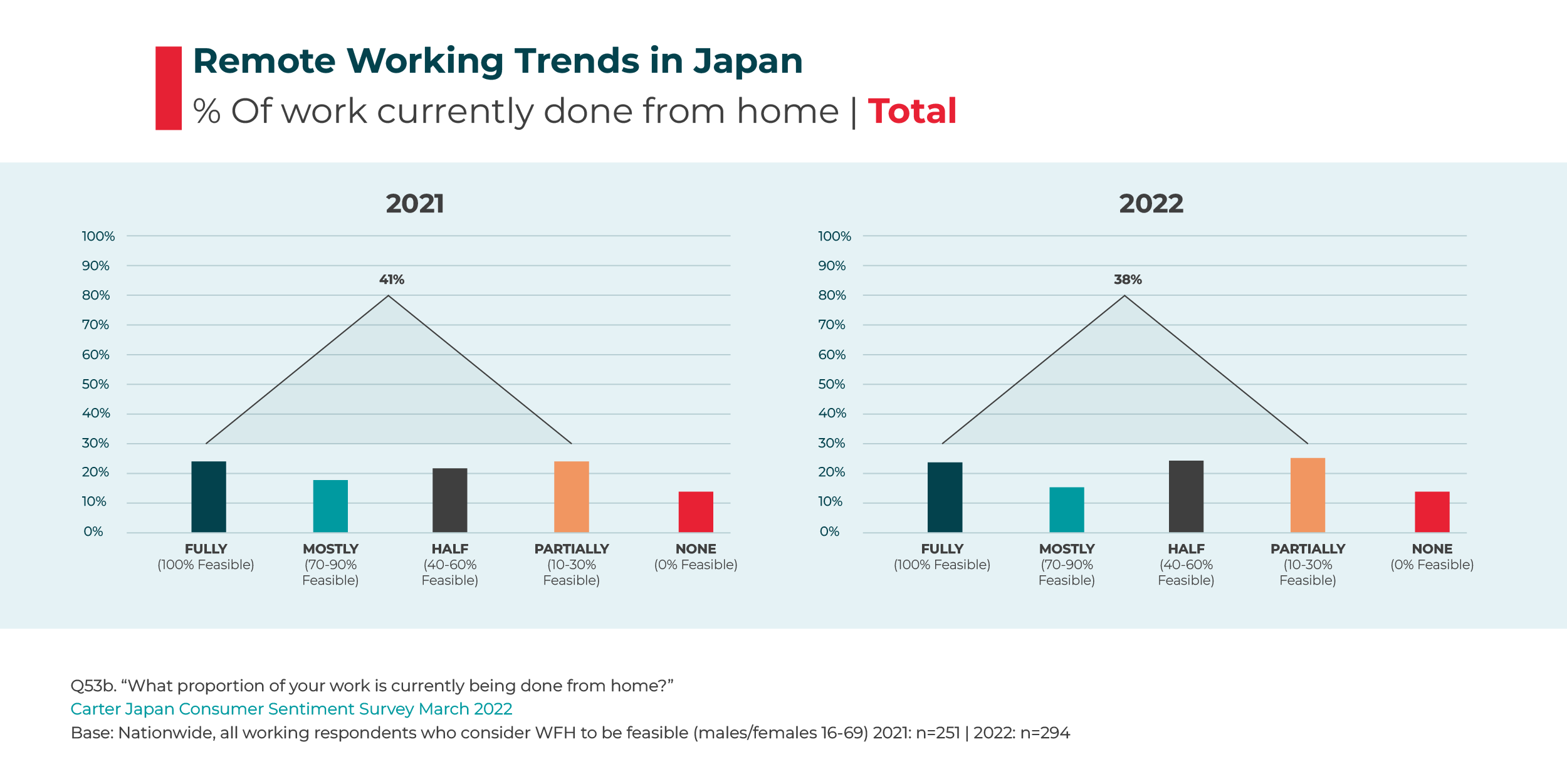 Interestingly, at a total level, of the 60% of people for whom remote work is feasible in 2022, there are 14% of whom don't work from home at all.
Japanese attitudes towards working from home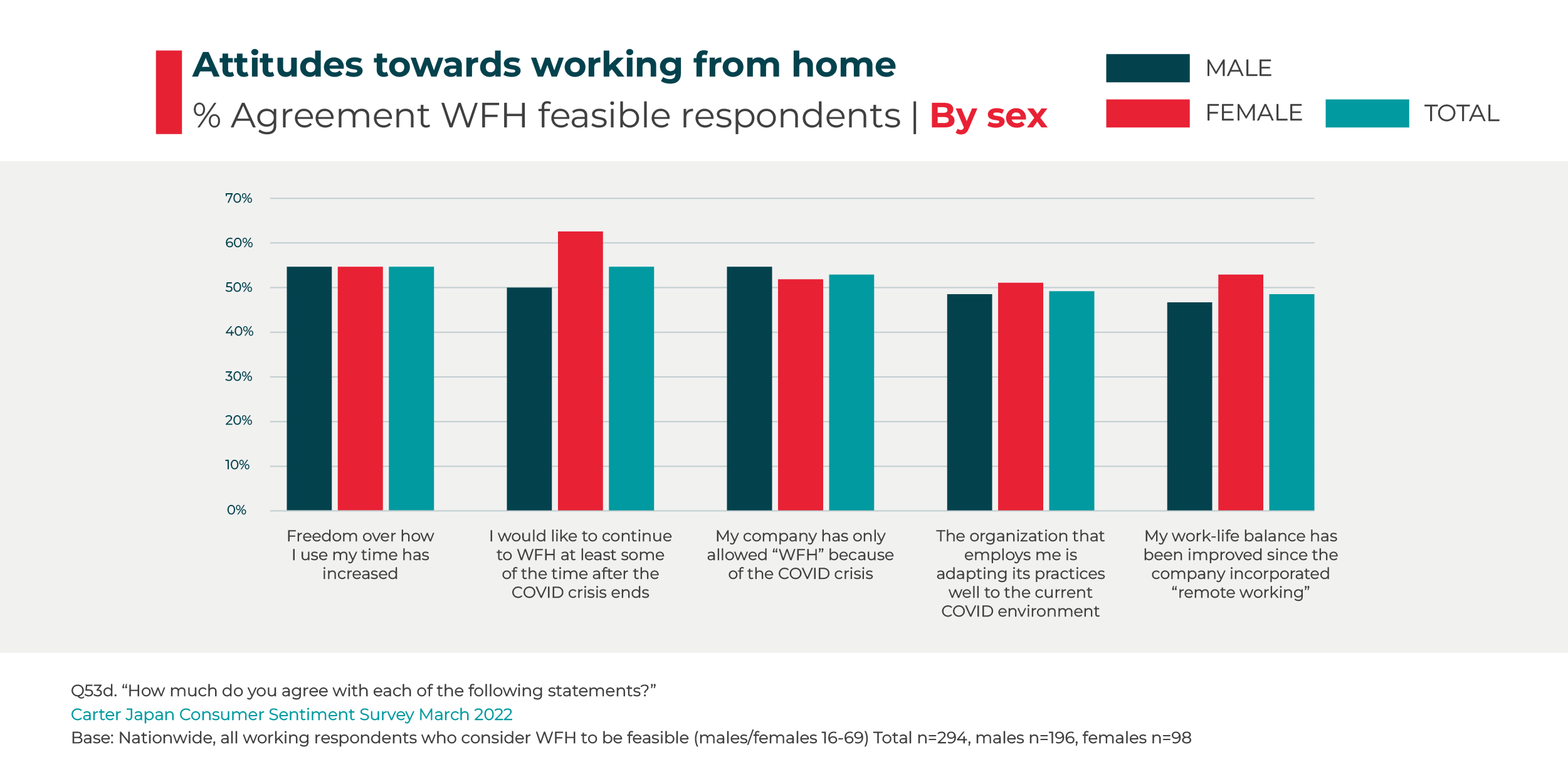 "Freedom over how I use my time has increased" – 54%
"My company has only allowed 'working from home' because of the Corona crisis" – 53%
"I would like to continue to work from at least some of the time after the Corona crisis ends" – 54%
More than half of the workforce see that working from home is a direct result of the pandemic but are keen to hold onto the benefits of remote work. They feel they can use their time more freely outside the office and want the chance to continue doing this.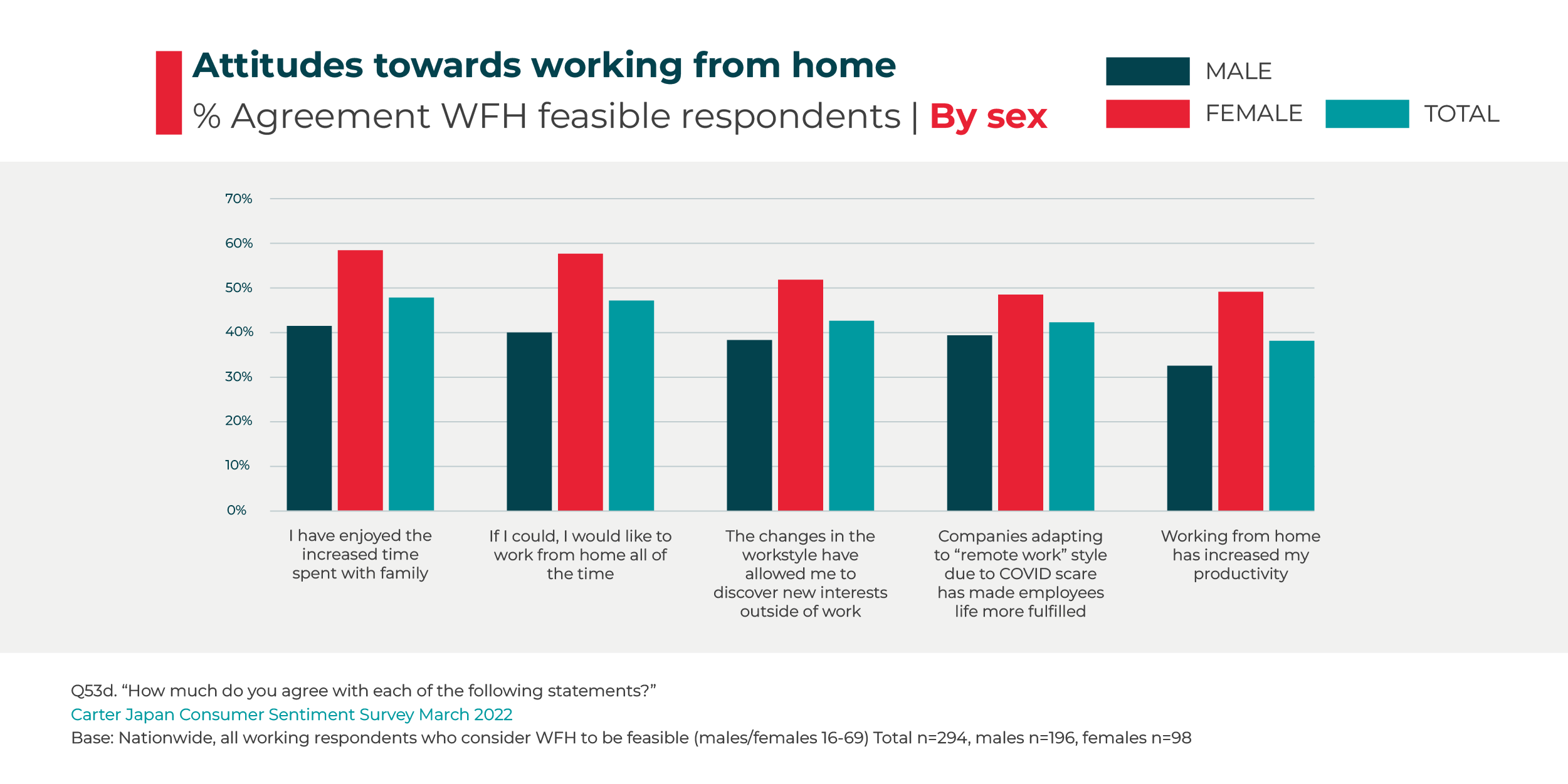 Women seem to enjoy working from home more than men
Across the board, women are more likely to endorse the positive working from home statements than men, suggesting women feel and enjoy the benefits of teleworking more than men.
"I have enjoyed the increased time spent with my family" – Men: 46%, Women: 53%
"My work-life balance has been improved since the company incorporated 'remote working'" – Men: 46%, Women: 53%
"The changes in workstyle have allowed me to discover new interests outside of work" – Men: 38%, Women: 52%
Women enjoy the extra time spent with family and like the work-life balance that has enabled them to pursue new interests outside of work. Women are much more likely to want to continue working after the corona crisis than men (62% women vs. 50% men). Women are also a lot more likely to want to work from home all the time than men (57% women vs. 40% men). But does working from home increase productivity?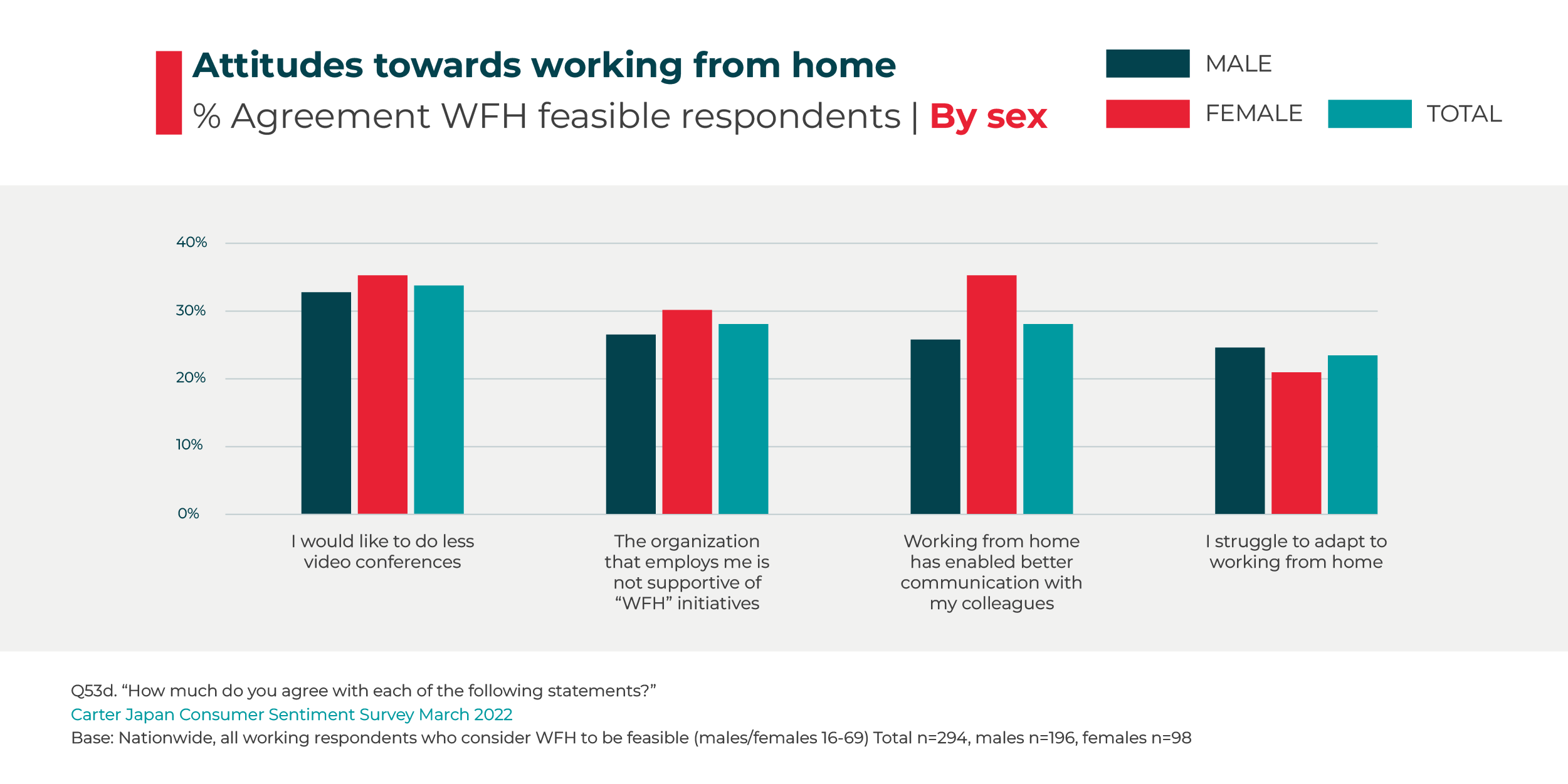 "Working from home has increased my productivity" – Men: 32%, Women: 49%
"Working from home has enabled better communication with my colleagues" – Men: 25%, Women: 35%
One of the more polarising statements was regarding the increased productivity of working from home, suggesting men are more likely to feel that they get more done in the office. A reason for this may be found in the statement about communication with colleagues, with men more likely to prefer to communicate in person rather than remotely.
On the other hand, women are much more likely to agree that they are more productive when working from home and tend to think that working from home leads to better communication with colleagues.
Overall, an interesting picture emerges from this data of female workers feeling they benefit from working from home to a greater degree than male workers. In contrast, male workers have an advantage over females in their ability to do so.