Heads, Hands, and Hearts for Age-Tech

It's no secret that 30% of Japan's population is already aged 65+, representing 36 million consumers today, and rising. More importantly, Japanese older adults are financially solvent, open-minded to tech, and enjoy true quality of life (both physically and cognitively) for longer than their Western counterparts. The so-called "aging care" market (i.e., medical/pharmaceutical, caregiving and consumer products segments) will by 2025 be a 101.3 trillion yen (US$954 billion) industry – larger than for domestic automobiles, finance, and consumer electronics. That's BIG.
Opening Video - Adapting to New Technologies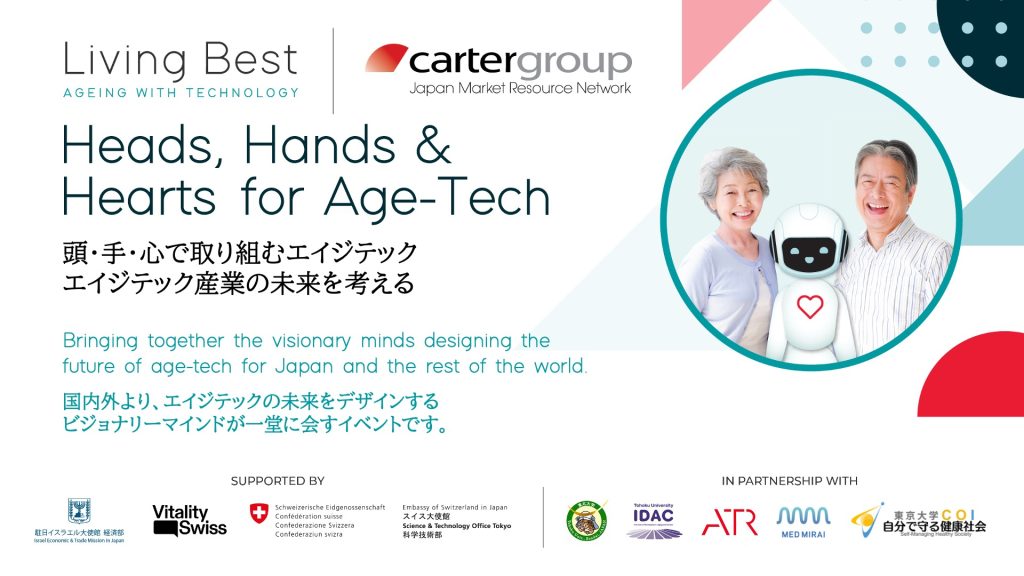 Adapting to New Technologies
Keren Etkin - Keynote Speaker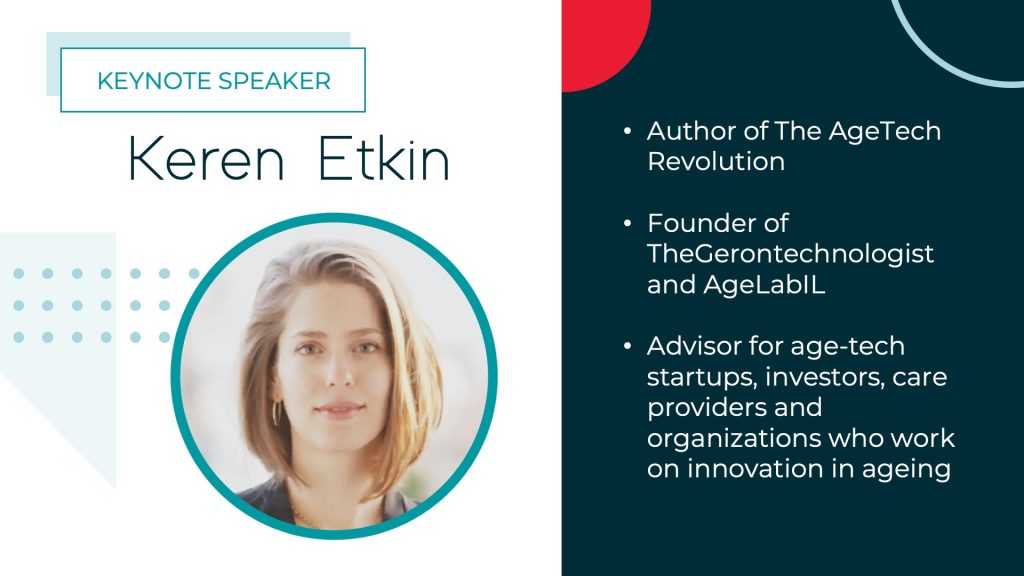 Introduction
The Gerontechnologist.com
The AgeTech Revolution
Contact Keren Etkin
Introduction
Keren Etkin is the best-selling author of The AgeTech Revolution – a book about the intersection of technology and aging. Etkin is the founder of TheGerontechnologist. com, a media platform that covers the global agetech ecosystem and The AgeTech Academy which offers online AgeTech education for entrepreneurs and elder care professionals. She's also the founder/director of AgeLabIL at Shenkar college in Israel, an interdisciplinary R&D center focusing on AgeTech. Named one of the most influential people in aging, Etkin is a sought-after public speaker and advisor to AgeTech startups, investors in the longevity economy, care providers and organizations who work on innovation in aging. Previously, Etkin was the first employee at Intuition Robotics, maker of ElliQ, a pioneering social robot designed with and for older adults, and co-founder & VP of Product at Sensi.ai, a startup that developed the first artificial intelligence solution for remote care monitoring. She holds an M.A. in Gerontology and a B.Sc. in Life Sciences from Ben-Gurion University.
The Gerontechnologist.com
The AgeTech Revolution
Contact Keren Etkin
Ken Mogi - Special Guest Speaker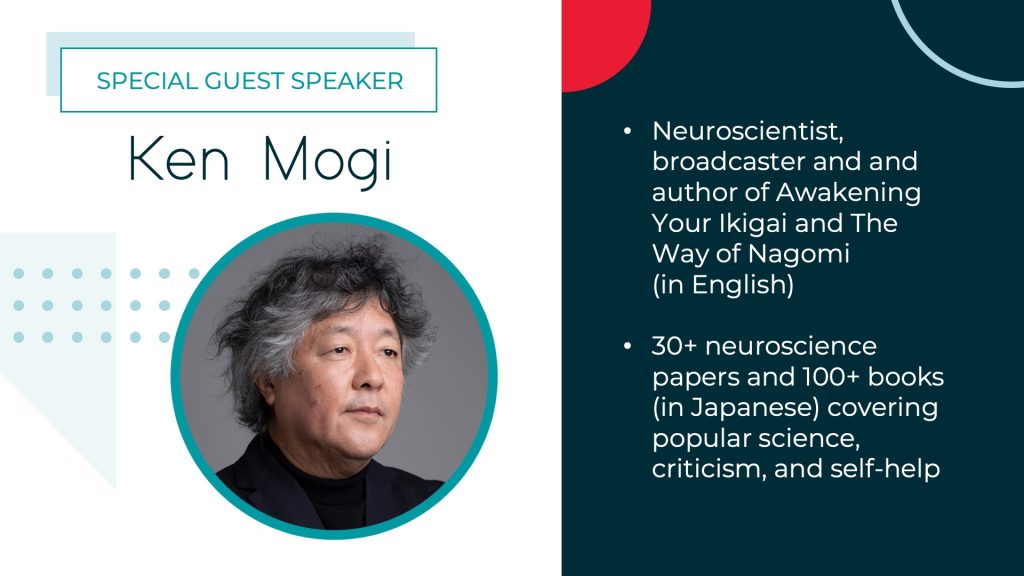 Introduction
Contact Kenichiro Mogi
Introduction
Neuroscientist, broadcaster, and author of Awakening Your Ikigai and The Way of Nagomi and many other books covering popular science, criticism and self-help.
Contact Kenichiro Mogi
Dominic Carter - Heads, Hands, and Hearts for Age-Tech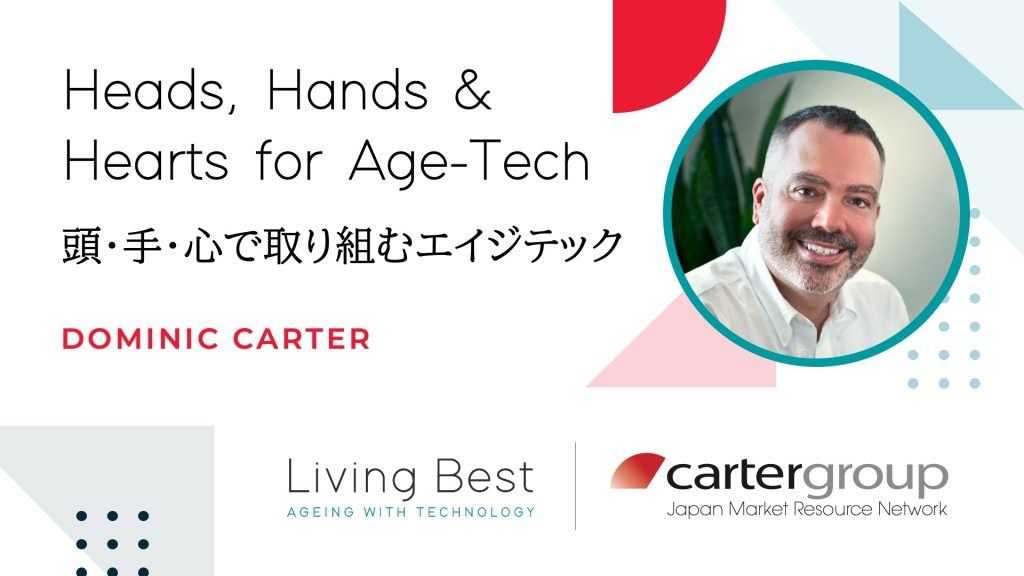 Introduction
The Carter Group
Living Best: Ageing with Technology
Contact Dominic Carter
Introduction
Representative Director & CEO of The Carter Group: Came to Japan from Australia in the late '90s to launch the Japan business of a global research consultancy. In 2003, he started what is now The Carter Group, a diversified organisation serving the needs of international businesses looking to realise ambitious goals in the Japanese market. Over the last 25 years he has worked with some of the top brands in the world, fuelling their journeys to success through the expert application of consumer insights across cultural contexts to drive successful marketing strategy. Dominic is a frequent lecturer, guest speaker, trainer, consultant and commentator on all matters to do with consumer insights methodology, social mega-trends and the contemporary Japanese consumer.
The Carter Group
Living Best: Ageing with Technology
Contact Dominic Carter
Tiziana Alamprese - La Camera della Felicita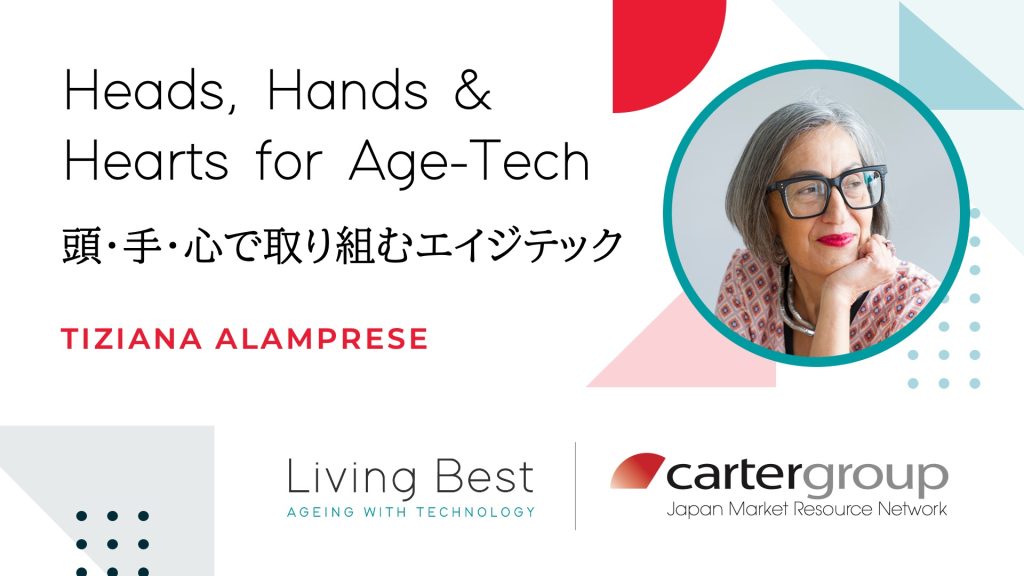 Introduction
Contact Tiziana Alamprese
Introduction
Founder of La Camera della Felicità. 30+ years as a top executive in the automotive industry, creative and innovative CMO, Love-ting expert, passionate DEI activist, volunteer for mental health causes, creator of new ways to generate happiness in longevity.
Contact Tiziana Alamprese
Kyoko Suzuki - Vitality Swiss / John Klepper - Pipra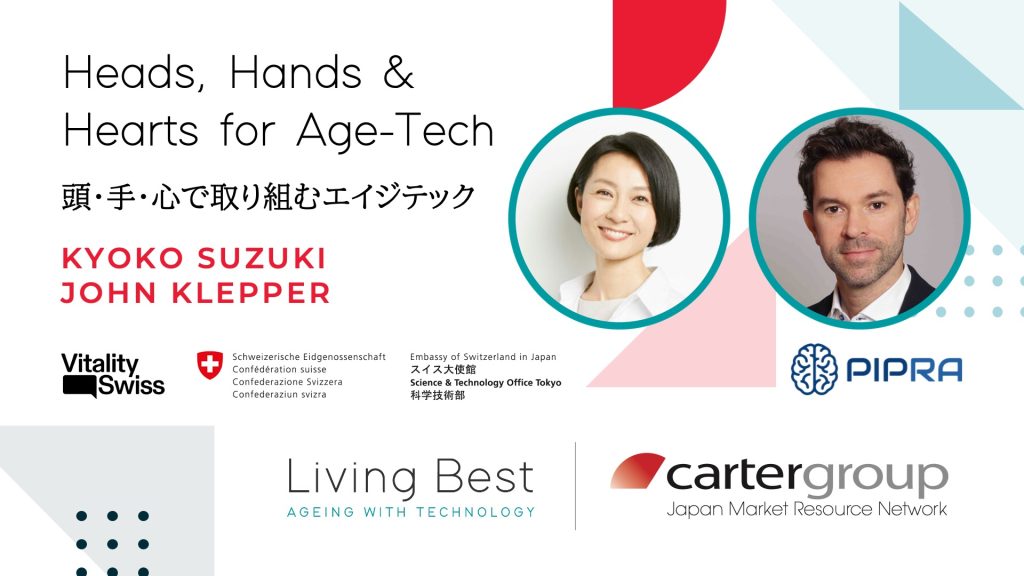 Introduction
Vitality Swiss
PIPRA
Introduction
KYOKO SUZUKI
Joined the Science and Technology Office Tokyo, Embassy of Switzerland in Japan in 2008. She started her career at a bank then moved to the US where she covered the financial markets for a Japanese newswire company. Moving back to Tokyo, she covered the technology industry for a US newswire agency before joining the Embassy.
JOHN KLEPPER
Co-Funder & CEO of PIPRA. John Klepper is a serial entrepreneur with 17 years experience founding and growing technology-based companies. He has had several board mandates and is experienced in lean startup, operational management, structuring, strategic planning and capital raising. One successful exit so far and two other ventures in various stages of growth.
Vitality Swiss
PIPRA
Opening Video - Fears, What Can Developers Do?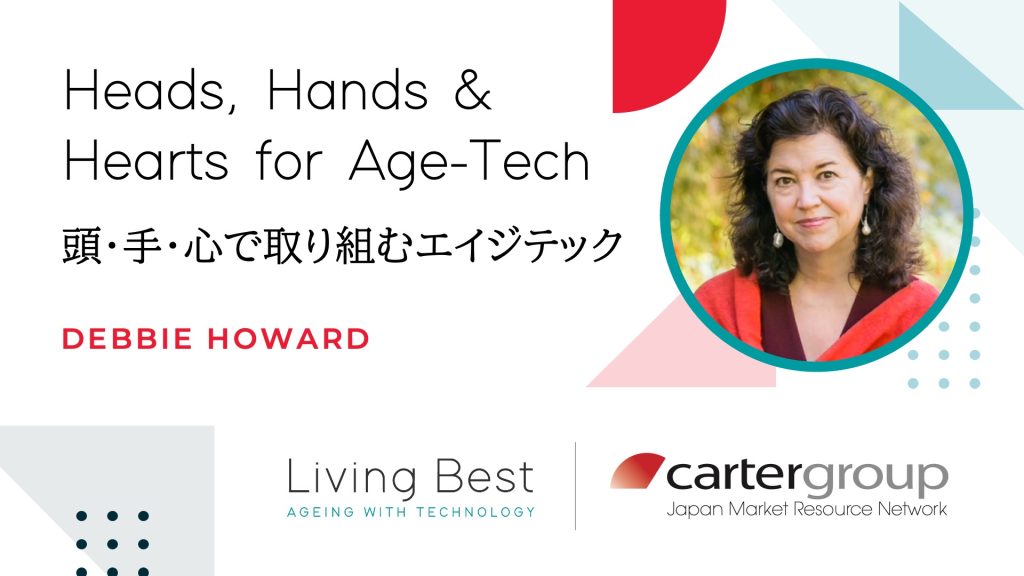 Debbie Howard
Chairman, The Carter Group-Japan Market Resource Network: Has helped major brands leverage in Japan for over 35 years. Inspired by her personal experience with caregiving for her Mom, she is a two-time author who advises both individuals and companies on navigating the caregiving crisis in our world (The Caregiving Journey: Information. Guidance. Inspiration. and The Caregiving Crisis: What It Costs Your Business and How to Fix It). She also co-hosts two popular weekly Rethinking Aging Clubhouse shows related to aging, age-tech and onward to caregiving: Age- Friendly Product Alliance (co-hosted by AARP's Age-tech Innovation Labs) and News for the Ages. She served as President of the American Chamber of Commerce in Japan (ACCJ) in 2004 and 2005, Chairman in 2006 and 2007, and continues to serve as ACCJ President Emeritus.
Live Panel - Japan's Age-Tech Ecosystem
Moderator - Risa Hamada
Osamu Kobayashi
Dr. Ryuta Kawashima
Dr. Akiko Kishi Svensson
Dr. Hiroyuki Suzuki
Takahashi Haeno
Moderator - Risa Hamada
With a 30 year background in strategic planning on both the agency and client sides. Moderated workshops and focus groups for product categories ranging from household products to Age-Tech. Her calm and understated manner helps encourage respondents to open up and give real insights.
Osamu Kobayashi
Dr. Ryuta Kawashima
Dr. Akiko Kishi Svensson
Dr. Hiroyuki Suzuki
Takahashi Haeno
Featured Age-Tech Company Video Showcase
There is much focus in the world on age-tech products and services, and as we've seen in Part One, the depth and breadth of age-tech products and services is very wide-ranging … and is as varied as life itself. These include both individualized needs (such as memories with La Camera della Felicita and business-facing – or B2B – needs (such as Swiss start-up PIPRA).
Next, we'd like to show you FIVE MORE examples of companies that are bringing age-tech into a reality in our world. Some focus more on cognitive assessment and prevention, while others focus more on sociability and reduction of loneliness and isolation. Still others seek to create more age-friendly physical environments that enable independent living for as long as practically possible. But all seek to improve the overall life experience and happiness of aging individuals through the creation of safer, more age-friendly environments. These age-tech developments are happening all over the world – RIGHT NOW. Our aim is to help super-charge the JAPAN ecosystem for domestic start-ups and ALSO for in-bound foreign start-ups.
Our first showcase company is a project of the University of Toronto, Canada … and offers a way forward with early detection of dementia.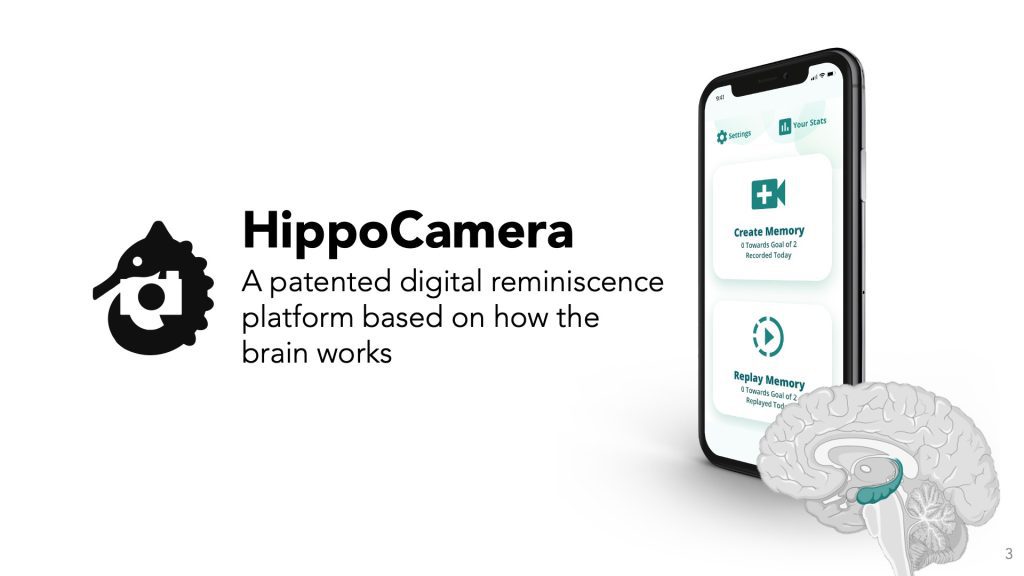 Dynamic Memory Solutions Inc.
Dynamic Memory Solutions Inc.
We formed in 2015 as a group of award-winning experts in memory, neuroscience, and digital health who were passionate about applying advances in basic science to create practical solutions to combat memory loss.
We spent years developing and validating HippoCamera and are excited to share our effective and evidence-based solution with anyone who wants to better remember the events of their lives.
Our next showcase company is a Japan-based online communications offering that helps aging Japanese to communicate with people of all ages from around the world … thereby helping to expand social interaction and reduce social isolation.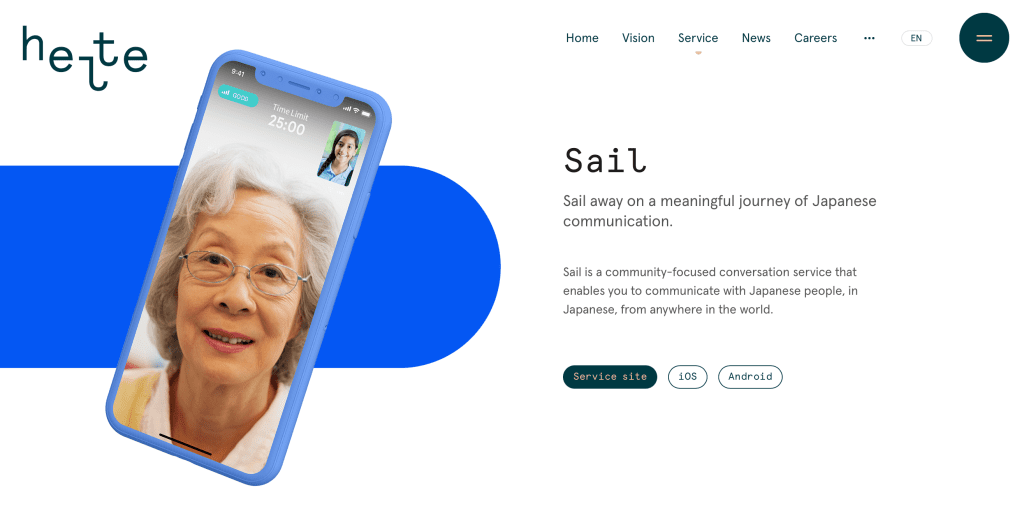 Helte Corp Ltd.
Paving the way for a vibrant and harmonious future
To make this vision a reality, we need to acknowledge and respect each others' differences. At Helte, we are convinced that a platform for learning about others and transcending differences in nationality, age, language, and culture will become a bridge to solving these problems. This is the starting point for a future where a vibrant, unified society is the norm.
Our next showcase company is an Israel-headquartered company that is perfecting … how artificial intelligence can help aging adults with social communications … and onward to monitoring and companionship.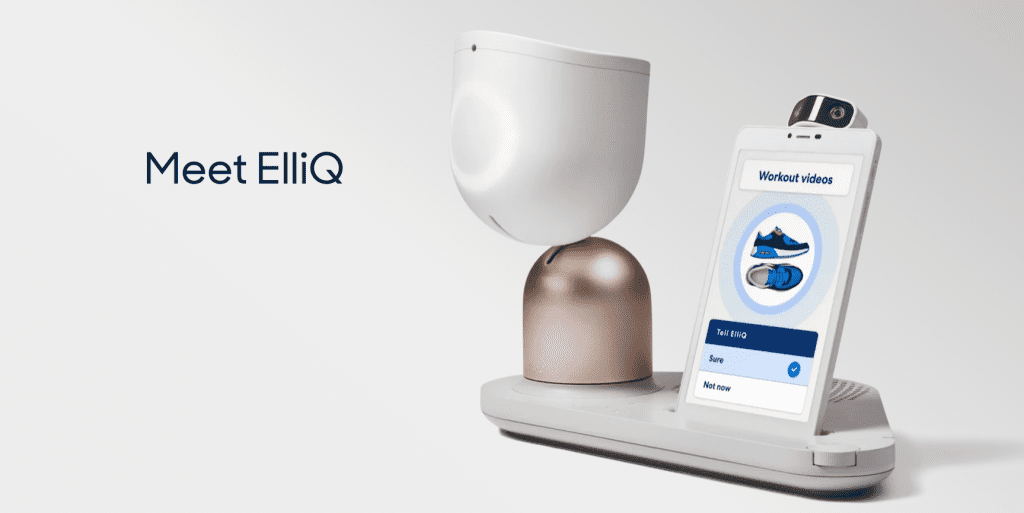 Intuition Robotics
We're on a mission to empower older adults to live happier, healthier and independent lives at home with an empathetic digital companion.
And our fourth showcase company is US-based Toyota Research Institute, which is pioneering the development of in-home robotics that help make home environments more age-friendly through monitoring, communications … and importantly, with actual robotics assistance with daily living tasks, which ensures that aging adults can live independently for as long as practically possible.

Toyota Research Institute
Toyota Research Institute
VISION
TRI envisions a future where Toyota products, enable  by TRI technology, dramatically improve quality of life for individuals and society.
MISSION
To achieve its Vision, TRI's Mission is to create new tools and capabilities focused on improving the human condition through research in energy & materials, robotics, machine learning, human-centered AI, and human interactive driving.
Live Showcase Company - CareMates
Moderator - Alan Raby
Kenji Furushiro
Yutaka Iwahori
Kosuke Mitsumoto
Moderator - Alan Raby
CEO and Founder of CareMates, a digital care platform for older adults. Over 30 years of experience in which 20+ years have been spent working in the technology industry globally. He is a serial entrepreneur and intrapreneur. He has 20+ years of experience working in Japan and was previously a General Manager with SONY where he was responsible for bringing SONY FeliCa technology, EDY e-money and Osaifu- Keitai from Japan to the US. He is a pioneer in FinTech and launched the first nation wide mobile banking application in the US in 2001. Has a Bachelor of Science (BSC) from the University of Toronto and holds both a CMA and CPA accounting designations. He is a BOD of Excite Credit Union. He resides in San Francisco. Alan is an avid mountain, trail and ultra trail runner.
Kenji Furushiro
Yutaka Iwahori
Kosuke Mitsumoto
Special Message from Ambassador Gallegos
Ambassador Gallegos
Chairman of the Global Initiative for Inclusive ICTs (G3ict). H.E. Mr Luis Gallegos is the former Minister of Foreign Affairs and Human Mobility of the Republic of Ecuador. He previously served as Ecuador's Ambassador to the United Nations in New York, and was president of the committee that drafted the U.N.'s Convention on the Rights of Persons with Disabilities.The first human rights treaty of the 21st century. He is a special advisor to the Nippon Foundation and a current fellow at Harvard University's Advanced Leadership Initiative.
The Living Best Professional Community: Call to Action - Dominic Carter