The abdication of Japan's Emperor Akihito in 2019, and the subsequent crowning of his son, Prince Naruhito, saw Japan usher in a new imperial era called Reiwa. There has been a great deal of debate over the true meaning of Reiwa to the Japanese people, but one thing everyone can agree on is that it symbolizes modernization, change, and the country's hopes for harmony.
The age of Reiwa, still in its infancy, is already marked by major shifts in society. Driven by demographic pressures the likes of which Japan, and the world, have never seen before, the emergence of the Reiwa era brings with it 4 major trends that will shape Japan going forward. Understanding these trends and how they're affecting the Japanese market is key for brands who wish to succeed in this unique and evolving economy.
Demographic changes driving evolution in Japan
Japan is meeting the era of Reiwa with unprecedented growth in the elder age brackets and declining in numbers among the young. According to the European Union's Continental Democracies Briefing, Japan's 'super-aged' society is the oldest in the world. Although many economies are experiencing the effects of an aging population, the world is watching Japan closely, hoping to learn from and prepare for major challenges facing their own markets. More than 28% of Japanese society is currently over the age of 65 (and mostly women), and with some 80,000+ centenarians amongst them, Japan is the first country to face an aging crisis on quite this scale.
Japan's aging population at a glance:
The 1980s: Most populous demographics were brackets 40 – 44 years and 15 – 19 years
Today: Largest age bracket is those over 80 years old
Women: Account for 63% of this age bracket in Japan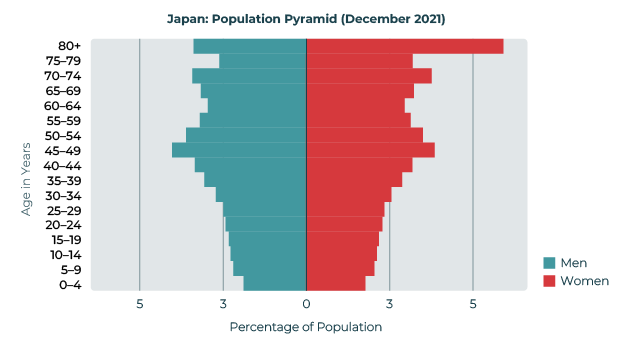 A growing population represents significant challenges in healthcare and housing, as we know. But Japan's aging population hasn't come about in a vacuum. Declining birth rates, people choosing to have children later, and the older generations living longer due to enhanced life expectancy mean that Japan's workforce is under immense pressure.
The scarcity of young people in Japan today is changing everything – and creating huge opportunities.
4 major macro trends emerging in the Japanese market
Where a declining workforce meets steady economic growth, workers find themselves in a unique position, with more bargaining power than ever before. This unprecedentedly strong position is having an effect on Japan's market, and we're seeing several major trends emerge.
1. The Changing World of Work
Japan is facing a major labor shortage with no clear solution. As a result, women, robots and immigrant labor are all being engaged. Attitudes to the traditional workaholic ideal and being tied to an office are also changing.
A study we conducted here at Carter found that 59% of Japanese people believe that their working habits and structure need to change. Today, companies are facing pressure to provide a more flexible working environment, including less rigid working hours and better conditions. The Japanese government even went so far as the introduce the Premium Friday initiative, encouraging companies to give workers a Friday afternoon off each month. The initiative was designed to promote a better work-life balance and stimulate the economy with extra spending. But, in a society where a quarter of employees work at least 80 hours each month in overtime, many found the idea laughable. Still, it indicates that the Japanese government is well aware of the worker shortage crisis and the bargaining power employees now have.
2. Women in Power to Change Japan's Workforce
A record number of working-age women now hold jobs in Japan, yet traditional work structures such as the two-track work system and societal attitudes are creating resistance. Former Prime Minister Shinzo Abe introduced an audacious growth plan for Japan's economy during his time in office. A core feature of this plan, dubbed 'womenomics' required large companies to produce action plans for hiring and promoting more women. Despite this initiative, women are still drastically underrepresented in Japanese boardrooms. Nonetheless, the plan did achieve some notable success. By the end of Abe's eight years in office, Japan's working-age female labor participation rate grew to 73% – up from 63% in 2012, when the policy was introduced.
According to political scientist and founder of enjoi Japan K.K (a consultancy dedicated to promoting diversity and equity in Japan), Jackie Steele:
"What Abe did was elevate women's economic empowerment to be a collective initiative for Japan. [He] helped to create coordinated discussion around gender equality as a pillar of the macro economy and Japan's competitiveness on a global scale."
Of course, the global pandemic caused huge disruption to the Japanese workforce (and the womenomics plan), as it did across the world. As always, women and marginalized worker groups were overrepresented in job loss figures.
In Japan, much of the female workforce is engaged in 'irregular' working circumstances such as part-time, temporary, and contract work. With the onset of the pandemic, lockdowns and trading restrictions meant that women in these types of roles were the hardest hit by job losses. Today, Japan's rank in the World Economic Forum's Global Gender Gap Index is even worse than it was a decade ago.
Despite policy failings and the disruption caused by the COVID-19 pandemic, the declining workforce means that like it or not, Japan's attitudes to women in the workforce will continue to evolve. Although it is likely to be a slow drip rather than a tsunami, the wave of women entering the workforce will continue to shape Japan's economy – and it's something brands need to be aware of. As women's participation in the workforce grows, so too does their spending power and their influence on Japan's market.
The Reiwa era is likely to see an upturning in the balance of power, especially economic power, between men and women. Women will have their own money and will have more freedom in how to spend it. The long-term implications are yet to be seen, but the social, consumer and retail trends are already apparent.
3. Generational Dynamics are Worth Exploring
Japan, with the most aged population in the world, is facing an unprecedented problem with no firm roadmap. Disparate generations may or may not have common interests, which means brands need to constantly reassess their target audiences and tailor potentially different offerings to each. Some industry leaders are doing this already.
Aoen, Japan's leading retailer and shopping mall conglomerate is rolling out renovations to their shopping centers to better cater to seniors. From earlier opening hours to exercise spaces and sessions, health check-ups, and social hubs to curated products targeting seniors, this multinational sees an opportunity to embrace the older population and is backing it with big spending.
Another trend brands in the Japanese market should take note of is tech-savvy seniors. As it is around the world, e-commerce is trending in Japan and growing exponentially. No longer the domain of the young, online shopping is being increasingly adopted by Japanese seniors.
Clear opportunities exist to alleviate the physical strain of shopping as well as provide services to those that care for seniors.
Seniors' wallets are open for target in other areas, too. Toys R Us and other retailers are exploring formats for more hands-on play that will attract kids and their grandparents to stores. This cross-generational strategy that incorporates both old and young, and encourages a new generational dynamic in retail, is something more brands should investigate.
4. Internationalization is Trending in Japan
Immigration is at a record high in Japan, and pre-COVID, the country was experiencing a record tourism boom. As pandemic restrictions ease and the country re-opens to tourism, brands should be prepared to cater to an influx of international visitors. Meanwhile, it is inevitable that Japan's immigrant workforce will continue to grow to help support a declining and aging local workforce. Companies should be prepared to cater to this changing workforce and the changing culture that is sure to follow.
How are US-based businesses trending in Japan?
Opinions about US brands have seen firm improvement in Japan over the last several years, and the USA is seen as one of the few western destinations gaining in popularity. For US brands entering or hoping to expand within the Japanese market, we are seeing four trends take the lead:
1. Convenience is King
Convenience is something that has often been designed around the needs of the salaryman. Now it is growing in its scope to facilitate enhanced roles for women in their work and career. Seniors want bothersome chores taken away from them as they pursue a more meaningful life.
2. Experience Means Engagement
Shopping is so much more than buying goods. This can all be done online nowadays. What to do with all the extra time that saves? Retail concepts that incorporate the opportunity to spend time in an enjoyable way are growing increasing engagement with brands as well the value of goods sold. And the needs for experience go well beyond retail into leisure and entertainment
3. Wellness is Getting a Boost
Wellness is a nascent trend in Japan prompted by concerns that arise from a faster-paced and sometimes more disconnected life. Japan's health-obsessed seniors also provide a long-term boost.
4. Growing Interest in Culture and Design
In today's jaded world, Culture and Design intersect to establish interest and status and create content for brands that will truly connect. Outdated assumptions about what is going to connect to 'typical' Japanese are being thrown out the window. Although US brands have often found it difficult to translate their offerings to the Japanese market, the feat is not impossible. Socio-demographic change in Japan represents an opportunity for US businesses, especially where US business represents best practices. By better understanding the four macro trends shaping change in the Japanese market and exploring the four market trends for US businesses mentioned above, brands can truly become big in Japan.
To learn more about how the values of the Japanese consumer drive their behavior, download our comprehensive Japan Values Segmentation guide!